Less Fat. Tighter Skin. The Same You
Achieve your body goals with Cryoskin 3.0! With the latest in advanced technology from Paris, CryoSkin 3.0 offers the most advanced non-invasive treatment solutions for slimming, toning and skin-tightening.
Effective. Painless. Convenient. REAL RESULTS.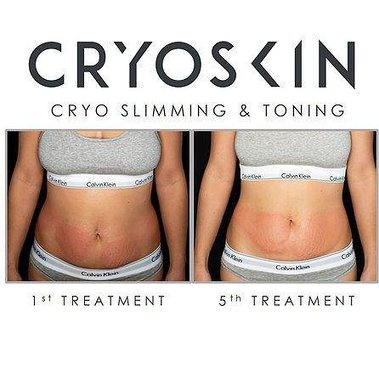 CRYOSKIN 3.0 SLIMMING.
This 28 minute non-invasive treatment is the first of its kind in the US. The treatment consists of a 3 phase thermal shock that will help naturally destroy fat cells. Whether you're looking to lose fat on your stomach, thighs, arms or back this is the solution for you.
If you're looking to remove cellulite or slow down the aging process this is the treatment for you. This 20 minute cold therapy treatment will help improve your microcirculation and speed up your metabolism, which results in higher collagen production.
CRYOSKIN 3.0 FACIAL
Non-surgical facelift! Results seen immediately after one session. Check out the results to the right. Dramatic results that last weeks! We can't stop the aging process, but the CryoSkin 3.0 facial helps to stimulate major collagen production, lifts the face, and visibly reduces wrinkles.
Slimming
1 Session
350
5 Sessions 1500
10 Sessions 2500
Toning/Tightening
1 Session
350
5 Sessions 1500
10 Sessions 2500
Non-Surgical Face Lift
1 Lift 350
5 Lifts 1000
Brazilian Butt Lift Technique
1750
Request your FREE consultation today
Questions? Book an Appointment?
Vanity Image Studio
7 E State St.
Media, PA 19063
484-443-8427