Exfoliating Your Skin-Microdermabrasion In a Jar?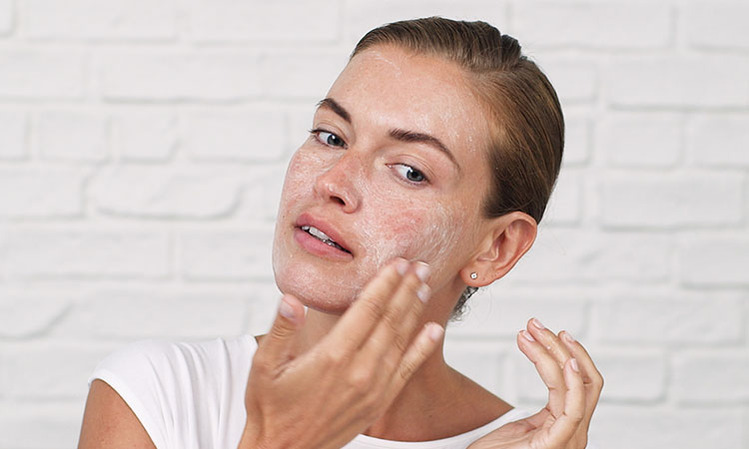 What is Exfoliation 🙋‍♀️

"Exfoliation is basically removing the dead surface cells from your skin," says Crystal. "I hate to call them 'dead' because we now know they're very much alive, but at any rate, it's the removal of the topmost skin layer." You can either use a chemical or physical exfoliant. A chemical exfoliation utilizes alpha-hydroxy acids (AHAs), beta-hydroxy acids (BHAs) or enzymes to loosen the glue-like substance that holds dead skin cells together this is best done as a chemical peep. A physical exfoliant (also referred to as a 'manual exfoliant') uses a tool, liquid, gel or scrub.
Why You Should Exfoliate Your Skin
Your skin is constantly repairing and replacing itself. Because of this, you can be left with layers upon layers of dead skin all over your body. Here are 5 key benefits of exfoliation, which helps to make way for brighter, smoother skin:
It fades age spots
It makes fine lines and wrinkles look less visible
It allows for better absorption of moisturizers, antioxidants and collagen-boosting serums
It unclogs your pores
It minimizes pore size and superficial scars
"It's important because it helps to break down some of the top surface cells that contribute to skin dullness, dryness and that 'aged skin' appearance," explains Crystal. "Brown spots also improve because some of those 'dead' surface cells are what harbor some of the pigment."
While brighter skin is certainly a perk, exfoliation can actually help improve the health of your skin as well. If your skin is riddled with dead cells, your skin care products may not be able to penetrate and do their work. In essence, "It also allows your products to work more effectively," says Crystal. By removing the top-most layer of skin, you're making it easier for your topical treatments to sink deep below the surface where they could make a real difference.
Finally, if you have acne-prone skin, exfoliation can help clear clogged pores, which often lead to breakouts, and minimize their size. It can also help fade acne scars faster by accelerating skin cell turnover and stimulating collagen production.
So now that you know exfoliating is one of the most essential steps in a skincare routine. You also know that it helps to remove dead skin cells and other impurities, revealing softer, younger looking skin. In fact in a spa setting Microdermabrasion is the leading way to get those results 2nd only to a chemical peel. But what if you don't have time to visit the spa?
"My client's make investments in their skin with treatments at the studio and it's important for us both to protect that investment" says Carmen. Skincare with an skincare studio takes two people to reach your skincare goals, I do what I do in the studio and then there is what clients do at home that helps maintain or increase our results!" In response to the demand, Crystal created a skincare product called Polished… it's essentially Microdermabrasion in a jar says Crystal. It's a very densely packed but super gentle facial scrub that won't tear your skin or aggravate existing skin conditions, removes stubborn blackheads and flaky skin and even helps diminish the appearance of fine lines and wrinkles. All you will see in the mirror is smooth, polished, glowing, radiant skin!

POLISHED Microdermabrasion Facial Scrub is a revolutionary new product made for at home use by Vanity Image Studio. It's an exfoliating face scrub with no harsh ingredients 🌱 that produces microdermabrasion like results in just 3 uses! Since it's effective but gentle it can safely be used at home even daily. It will help you feel glowy and radiant by brightening, exfoliating and softening skin. Bonus? It even removes the those stubborn dark dots/blackheads on your nose and chin!
Easy to use too! : Just apply with your finger tips on your face using circular motions for 5 minutes and rinse off with warm water💧
Want to shop for Polished? Visit our Online Beauty Bar
Rather be pampered and schedule a Classic facial where we use this decadent scrub?